With a Heritage Bank of Schaumburg MasterMoney® debit card, you can conveniently make everyday purchases at stores, restaurants, supermarkets, or any of the millions of locations worldwide that accept MasterCard® debit cards. It's safer and easier than using cash or checks, and purchases are automatically deducted from your checking account and detailed on your monthly account statement.
In addition, your MasterMoney® card can also been used as an automated teller machine card. Use it at one of our ATMs, or at any ATM displaying the MasterCard®, Cirrus®, or NYCE® logos to make deposits, cash withdrawals, or balance inquiries. Ask for your card today!
---
Introducing SecurLOCK Equip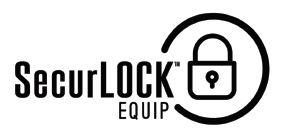 SecurLOCK Equip is a new mobile app that gives Heritage Bank of Schaumburg debit card holders the ability to control how, when, and where their debit cards are used.  It is a secure way to protect against fraudulent transactions using real-time transaction alerts and controls.
SecurLOCK Equip Features:

Receive instant alert notifications

View recent transactions

Turn entire card on or off by channel (in-store, online, mobile, ATM, etc.)

Set transaction spend limits

Select geographic locations where the card can be used

Set merchant locations
Frequently Asked Questions:

Q: What is required to use SecurLOCK Equip?

A:  SecurLOCK Equip requires you to have a debit card issued from Heritage Bank of Schaumburg.  You will also need an Apple or Android smartphone.  After downloading the app you will be instructed to enter your account number and other authentication information.  Once registered, you can begin using the app immediately.
Q:  How can I get the SecurLOCK Equip app?
A:  Search for the SecurLOCK Equip app and download it from the Apple or Google Play store.  Once the app has been downloaded, you can begin registering your card(s).
Q:  What is a real-time alert?
A:  It is an immediate notification sent to the app.  You can select to be alerted on all your payment transactions including recurring payments or you can select just preferred transactions.  Preferred alerts are available by spend limits, location, transaction type, and merchant category.
Q:  By turning off my card am I closing my account?
A:  No.  Using the card controls does not change the status of your account.
Q:  How do I get more information about the features and functionality of the app?
A:  Detailed information can be found throughout the app.  Help can be found at the bottom of the login page and listed in the menu. On specific pages such as the "My Location" page the "i" next to My Regions opens a window with detailed information on how the control works.  If additional help is needed, there is a "Contact Us" category where you can send us an email.  You can also call 847-524-4000 during regular banking hours.
Q:  How can I see why my transaction was declined?
A:  In the app, go to Transactions, find the one that was denied and open it, tap the image so that it rotates, and the control(s) that were evoked during the authorization will be listed near the bottom.  Keep in mind that the transaction could also be declined because of external factors like non-sufficient funds and fraud monitoring.  Only controls that you selected for your card will be displayed.  If you still have questions regarding the reason for a declined transaction, please call 847-524-4000.
Q:  I received a new card number.  Will it automatically be updated in the app?
A:  You must add the new account to the app.  This can be done by going to Manage Account and adding the card.  Be sure to "unmanage" the old card.
Q:  My pending purchase shows it is for more than I paid.  Why?
A:  Some merchants send pre-authorizations at higher amounts.  Pre-authorizations are common at the pump, for a hotel stay, or for a car rental.  Even though the charge is listed in the app for more, it will clear your account for the correct amount.
Q:  What if my smart phone is stolen?  How secure is the app?
A:  The app requires a password to access.  Also, there is no personal information stored on the smartphone.  The app only displays the last 4 digits of your card number